Bathroom Waterproofing Brisbane
Is bathroom waterproofing a DIY or professional job?
Bathroom Waterproofing Brisbane by The Shower Dr
Bathroom waterproofing is the most important part of a bathroom as it provides the integrity needed to ensure that water doesn't leak into other parts of the home. An incorrectly waterproofed bathroom or wet area can quickly cause problems that are at best inconvenient and at worst structurally damaging.
Bathroom waterproofing Brisbane – waterproofing must be carried out correctly
Every bathroom is different and so therefore a bathroom waterproofing job must be carefully evaluated and attention given to the smallest details. A poor waterproofing membrane can result in leaking showers internally and leaking balconies externally which often result in costly repairs. The majority of leaking showers and water issue we are called out to inspect are the result of poor or failing waterproofing.
Is bathroom waterproofing a DIY or professional job?
Many people get a great sense of accomplishment in undertaking their own renovations or building works and in Queensland owner-builders are very common. However, waterproofing is often a job best left to licensed professionals who are in a position to offer a long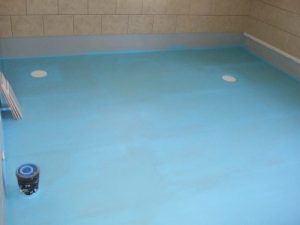 guarantee that the waterproofing will not fail and cause problems in other areas of the home. At The Shower Dr we offer a full waterproofing service in Brisbane for builders, homeowners, renovators and owner-builders. Using the best products available from Mapei we can guarantee that your wet areas will remain waterproof for years to come and we'll put that guarantee in writing. So whether you have a leaking shower or bathroom, are renovating or upgrading a wet area in your home call us at The Shower Dr. We'll waterproof your wet areas so you can have peace of mind and a guarantee worth having. We service Brisbane, Ipswich as well as the Sunshine Coast and Gold Coast and our technicians are fully trained in all aspects of waterproofing including outdoor areas such as balconies. Give us a call on 07 3274 2843 and we'll happily give you and obligation free quote.
Great workmanship. Tradies who not only turn up as planned but are polite and thoughtful as they work. Definitely recommend this company
.
Brisbane
U9 8 Chrome Street
Salisbury QLD 4107

Ph: 07 3274 2843

Monday - Friday  8:30am- 4:30pm