Leaking Shower Repair Tips From The Shower Dr
General Information About Fixing Your Leaking Shower
Information and leaking shower repair tips 
THE LINKS TO THE PAGES BELOW provide general information about leaking shower repairs tips. There is also information on maintaining your shower. Regular maintenance and timely repairs will ensure that you get the maximum life out of your shower or leaking shower repair and safeguard your investment. 
The Shower Dr offers effective, long-lasting and affordable repairs for leaking showers and bathrooms and when we've finished the job your bathroom will be rejuvenated and you probably won't even notice the repair. Our Mapei Kerapoxy solutions ensure that once your bathroom has been fixed, it stays fixed. If we can fix it – we guarantee it.
Leaking shower repair page links
Our leaking shower repairs are reliable, thorough and professional
WE HAVE SUCCESSFULLY REPAIRED all types of showers, shower trays, tiles and bathrooms which is why The Shower Dr is the trusted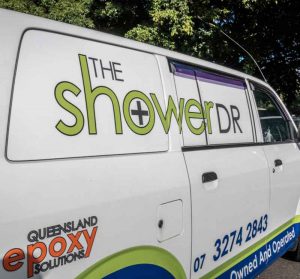 family name throughout South East Queensland when it comes to leaking showers and other bathrooms repairs. The Shower Dr works without removing existing tiles, we can give your bathroom a face lift avoiding the cost of new tiling or replacing fixtures.
Minor leaking showers can usually be repaired in a very cost effective manner although by the time a leak develops many bathrooms have become a little tired. If this is the case we ensure that by the time we leave your bathroom looks as it should and more importantly functions as it should, and because we'll repair your leaking shower without lifting any tiles the repair will be cost effective and probably much cheaper than you'd expect even though we'll use Mapei premium products. We won't compromise on workmanship or materials, the cost saving comes because we fix shower leaks without lifting tiles.
"This company knows how to deliver outstanding quality and workmanship. I had a complete bathroom rebuild and the result has blown me away. I would only recommend these guys and am so impressed with their detail in delivering a fully leak proof bathroom that looks and feels modern, sophisticated and luxurious." 
Brisbane
U9 8 Chrome Street
Salisbury QLD 4107

Ph: 07 3274 2843

Monday - Friday  8:30am- 4:30pm