Accessible Showers and Bathrooms Brisbane and Sunshine Coast
We understand when life changes
Accessible Showers and Disabled Friendly Bathrooms | Brisbane & Sunshine Coast
WE UNDERSTAND HOW LIFE CAN CHANGE, and can help you stay in your home longer with our accessible showers conversions and disabled friendly Bathroooms. We can quickly and cost effectively turn a difficult environment into a safe accessible shower or bathroom for the elderly or those with a disability.
Life changes and sometimes our needs change too
THE SHOWER DR are the South East Queensland specialists in designing and building accessible showers and bathrooms that help our clients keep their independence and stay in the homes they love for longer. Working hand in hand with aged care providers and disability care givers we can custom design accessible showers and bathrooms in houses, apartments or units. Every shower and bathroom is unique because all of our clients have different needs. Our designs are flexible and cost effective and enhance our customer's quality of life.
Planning accessible showers
PLANNING ACCESSIBLE SHOWERS and disabled friendly bathrooms takes experience and understanding as all of our customer's needs are different. We have more than 15 years experience in accessible shower design and find practical solutions that make life easier and safer for those with a disability. Sometimes it can be as simple as removing a bathtub and installing an easy access shower and on other occasions the work can be more extensive. There are many considerations when planning accessibility and safety in a bathroom, some of these include:
What bathroom activities require a user to need assistance?
Every person has different needs and present and future requirements should be taken into account when designing an accessible shower or bathroom. Planning ahead ensures that if a person's health should deteriorate the bathroom will still be suitable.
Is wheelchair access required?
A shower without a lip is ideal for people using a wheelchair, walker or for someone who is at risk for falls and can be used by everyone regardless of ability.
Sink and vanity access: 
Wall mounted sinks and vanities are generally better suited for accessible showers and bathrooms particularly if a wheelchair needs to be accommodated.
Placement of mirrors: 
Mounting a lower placed mirror, extra long mirror, or tilt mirror that everyone can use is an important consideration.
Is a bathtub or shower more suitable: 
Some clients feel more comfortable using a tub than a shower and the bathroom design should take this into account. We find that we are often asked to remove a bathtub and install an accessible shower for clients with mobility issues.
Lighting: 
Good lighting in the bathroom is important for safety and motion detecting lights can be used when access to switches is difficult.
There is a lot to think about when planning accessible showers and disabled friendly bathrooms so it makes sense to get expert advice to ensure that you end up with a bathroom that meets your specific needs and requirements.
Our team is expert and provides outstanding service and value for money, so let us help you stay safe in your bathroom. As registered builders our work is fully compliant and guaranteed and we can carry out our work quickly and with minimum disruption.
If your life is changing and you need help in planning accessible showers or bathrooms , we'll be happy to give you advice, an obligation free quote and help you achieve the right outcome so you can stay in your home safely and for as long as practical.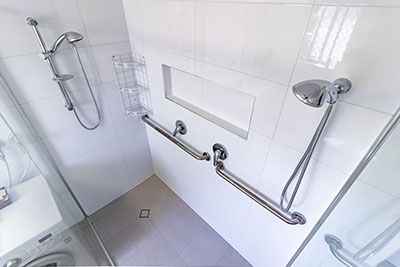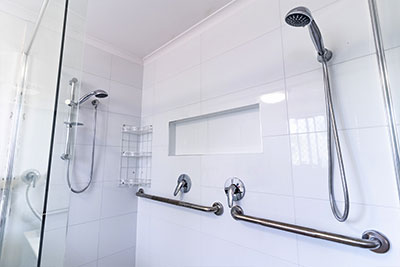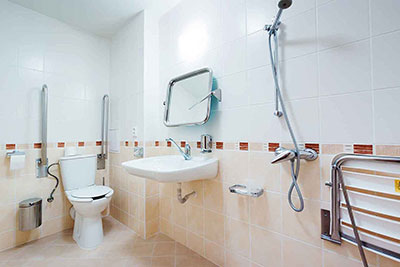 So happy with our experience with The Shower Dr Team! Great service, great value, great work! Very professional, great communication and very efficient. So happy with our new ensuite. The Shower Dr went above and beyond our expectations. Thank you!
Brisbane
U9 8 Chrome Street
Salisbury QLD 4107

Ph: 07 3274 2843

Monday - Friday  8:30am- 4:30pm