Leak detection Brisbane by the Shower Dr
The Shower Dr are Brisbane's specialists in non-invasive leak detection
Hi-Tech Leak Detection Brisbane by The Shower Dr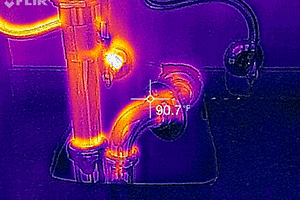 The Shower Dr specialises in the latest non-invasive leak detection methods using the latest state of the art testing equipment to detect and locate any leak or burst pipes quickly and efficiently. We have invested in the FLIR C2 which is the world's first full-featured, pocket-sized thermal camera specifically designed to find even the smallest water leaks in a completely safe and non-invasive way.
Water leak detection by The Shower Dr Brisbane and Sunshine Coast
Our detection equipment uses world-first technology and a high sensitivity detector that captures and displays subtle thermal patterns and small temperature differences enabling us to pinpoint water leaks without the destructive removal of tiles or other bathroom or laundry fittings. This coupled with our unique sealing method ensures that your leaking shower problem is detected accurately and repaired permanently and affordably without removing any tiles.
The Shower Dr, The Leak Detection Specialists, Brisbane and Sunshine Coast
The location of water leaks is not always obvious and by using advanced leak detection equipment the Shower Dr's Water Leak Detection service will find your problem. Our technicians are fully trained in the use of thermal imaging and water leaks and our service is fully guaranteed. We're not happy until you're happy and you have the added security of knowing that we have more than 25 years experience in the field, and, unlike many others The Shower Dr is a registered builder and can legally carry out whatever repairs may be necessary.
"This is truly amazing, get onto It quick as the boys are gonna be busy!"
Brisbane
U9 8 Chrome Street
Salisbury QLD 4107

Ph: 07 3274 2843

Monday - Friday  8:30am- 4:30pm