The Pros and Cons of DIY Shower Repairs
Are DIY Shower Repairs Cost Effective?
DIY Maintenance and Repairs
DIY Shower Repairs, are they a good deal?
Most of us like to think that we're pretty handy when it comes to DIY around the house. We'll tackle almost any household repair after getting tips from a quick Google search and a couple of YouTube videos. For most DIY tasks this is a reasonable strategy but there are some household repairs and maintenance jobs that are best left to the experts.
Obviously electrical work falls into the "expert" category and, perhaps surprisingly, shower repairs and bathroom maintenance also require skills and knowledge that are beyond the scope of the average home handyman.
While the dangers around DIY electrical work are obvious, working in and around showers also presents potential pitfalls that can cause structural damage to your home if not undertaken in a timely and correct way.
A DIY shower repair story
Last week one of our tradesmen was called to investigate the cause of a leaking shower. The first floor ensuite was leaking through the ceiling and into the light fittings of the living room below the bathroom. He was told by the worried homeowner that the shower had leaked some months before, that her husband had "repaired" the shower by running some silicone around the perimeter of the base which stopped the leak. The customer couldn't understand why the problem had resurfaced after the DIY shower repairs.
The reality was that the leak hadn't been properly repaired and the water had found another path to travel as it always will. A surface fix with silicone never permanently seals a leaking shower and our client's husband didn't have the equipment or specialist knowledge to diagnose the correct source of the leak. He simply repaired what he thought was the problem with a very temporary solution which had the potential to make matters worse by masking what was really going wrong in the shower recess..
The difference between DIY and professional shower repairs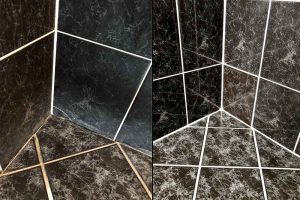 Our tradesmen have diagnostic equipment to accurately pinpoint water leaks and other shower failures including thermal cameras, moisture detectors and other specialised tools not generally available to the DIY enthusiast. After a through inspection of the shower recess the technician determined that the failure of the waterproof membrane combined with an incorrectly fitted puddle flange were the cause of the shower's failure and was able to offer a cost effective solution to rectify the problem.
The repair was carried out in less than a day, no tiles were removed and our customer has a guaranteed, permanent solution to the problem.
Why it's important to use a professional to diagnose and repair a leaking shower.
When you use professional you'll get:
a professional assessment and a correct diagnosis of the problem
repairs using the best available commercial grade materials
work carried out by a trained technician
the peace of mind that comes with using a QBCC registered builder
a cost effective solution covered by a comprehensive warranty
While a DIY or handyman solutions may seem like cheap alternatives, they are rarely value for money in the long term when poorly repaired water leaks can cause structural damage to your home which result in expensive repairs.
Regardless of the cause of your leaking shower, Shower Dr technicians have the skills, knowledge and resources to diagnose and repair your shower problems quickly and cost effectively. We'll also provide you with a level of service, peace of mind and warranty that a DIY repair can't.
Call The Shower Dr, we'll give you a free obligation free quote enabling you to take full advantage of all of the detection technology available to you. We're quick, neat, reliable, professional and we we care about our customers.
The Shower Dr – We Repair, Restore and Rebuild bathrooms all over South East Queensland – guaranteed.
Had our shower recess regrouted and sealed. Very thorough job,  cleaned up afterwards. Looks great.  Only thing I recommend is consider whether your shower screen needs replacing at same time. Wish we had replaced ours.
Brisbane
U9 8 Chrome Street
Salisbury QLD 4107

Ph: 07 3274 2843

Monday - Friday  8:30am- 4:30pm