Cut shower cleaning time by up to 90% and have a sparkling shower
Enjoy clean shower screens with EnduroShield
Cut shower cleaning time by up to 90%
and

 have a clean shower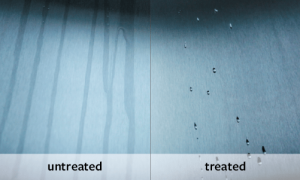 A new, renovated or rejuvenated shower looks immaculate when the work is first completed, the tiles gleam, the shower screen is pristine and the grout mould and dirt free. However, the bathroom is one of the most used rooms in your home and the challenge is how to maintain that new, clean shower look over time, as we all know that wet areas tend to age less well than other parts of the home. At The Shower Dr we supply and fit the best products available to help maintain the clean shower look with the minimum of effort.
Clean shower tiles and grout
When we carry out a Shower Dr Shower Service the Mapei grouts and sealants we use between floor and wall tiles are designed to minimise cleaning time and effort. These products are soap and dirt resistant and are guaranteed to remain mould free for 10 years with regular light cleaning.
Clean shower screens
Our clients tell us that shower screens are often the most difficult part of the bathroom to keep clean because of the build up of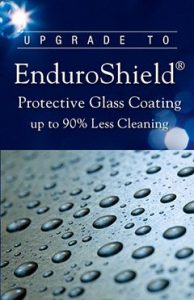 soap that invariably occurs. An untreated glass shower screen is porous and absorbs mineral deposits from water as well as soap, and this makes it more and more difficult to clean over time. Using harsh, toxic shower cleaners can eventually discolour the glass making stains almost impossible to remove.
EnduroShield
To overcome this we apply an optional  EnduroShield coating to your shower screen when we carry out a Shower Dr Shower Service. We first strip clean your shower screen ensuring that it is as clean as possible. EnduroShield, an invisible, non-stick coating which provides a permanent protective barrier that makes cleaning shower glass easy is then applied to the glass. The products repels soap scum, grime and dirt and also eliminates the need for harsh chemicals reducing cleaning time by up to 90%. This is good for the environment as much less water and no potentially harmful chemicals are needed to maintain a clean shower.
How does it work?
EnduroShield works in the same way as a non-stick pan and cleaning is easy. All you need is a mild detergent or white vinegar and a microfibre cloth. You won't need to use any harsh or toxic chemical based cleaners.
The EnduroShield system is so effective that we use it on every new shower screen we fit when carrying out bathroom makeovers, rejuvenations or renovations. This makes it easy for our clients to keep that clean shower look for years. For minimal cost EnduroShield protects your investment and keeps your shower looking pristine.
The benefits of enduroshield
Cuts cleaning time and keeps glass cleaner between cleans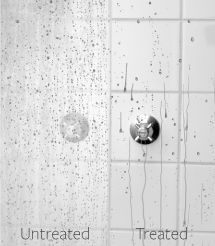 Superior protection against staining
Once only application lasts years
Maintenance products not required
Suitable for new and existing shower screens
Environmentally friendly
A genuine 10-year warranty on all new glass surfaces and a 5-year warranty on existing shower screens.
We needed our shower re-built in a short time frame. All customer service people were great, and the repair technicians were very good at their job. Final product looks amazing.TheBlatt15
Brisbane
U9 8 Chrome Street
Salisbury QLD 4107

Ph: 07 3274 2843

Monday - Friday  8:30am- 4:30pm